Have You Seen Our Truck?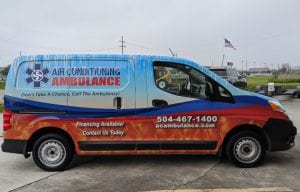 Our truck has been hitting the streets of New Orleans hard. You can't miss it and must have seen it by now. It features images of icicles and fire, because we will take care of your heating and cooling needs all year round. Whenever and wherever you need us in the greater New Orleans area, we will be there for you.
We offer quality air conditioning repair. Our experienced technicians repair all types of air conditioner brands and models. They undergo extensive training to properly troubleshoot and repair all types of HVAC units. We also guarantee our air conditioning repair work.
It is important to maintain your air conditioning system properly. Proper air conditioning maintenance on your AC units will improve the air quality in your home and will prolong the life of your AC unit. A cleanly running system is an efficient system, which will help save you money on your energy bills.  All of our technicians are certified and are also certified to handle refrigerant. In addition, they attend regular classes to learn the latest advances in the Air Conditioning industry.
We also offer new air conditioning units and installations. There are many great options for replacing your Air Conditioning Units that include Daikin, Amana, and Goodman products. If you think that your Air Conditioner is not working well, give us a call and we will assess your current Air Conditioning System. We will let you know if a new installation is necessary. We will provide solutions to improve the Air Quality in your home that include maintenance programs to brand new HVAC installations. Our trained technicians can help you find the best Air Conditioning replacement solution for your home including new installation that will fit your budget.
Our services also include new heating units and heating repairs services, which is especially important during the colder winter months. We will help you maintain a comfortable home environment during the winter with a quality heating unit. Let our expert technicians help you to determine which heating unit will meet your needs.
Contact Air Conditioning Ambulance for more information
504-467-1400
20 Veterans Blvd #101 | Kenner, LA 70062
Our office hours are Monday – Friday 9AM – 5PM, we are closed Saturday & Sunday.