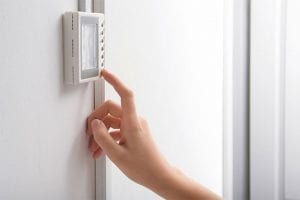 Are you home with your entire family right now? This means your AC is probably working overtime. It is getting warmer outside and while you are trying to keep the kids entertained with indoor and outdoor activities, your AC will be working 24/7. This can put a strain on your unit. Get your system checked out by the experts to make sure it runs smooth and efficiently. We offer quality air conditioning repair. Our experienced technicians repair all types of air conditioner brands and models.
Zoning Keeps Everybody Comfortable
When everybody is at home, agreeing on a comfortable temperature that makes everybody happy can be tricky. Did you know that an existing HVAC system can be retrofitted with a zoned control panel, thermostats, zone dampers, and a bypass damper? Essentially, the zoned control panel is the "brains" of the operation, controlling every aspect of the zones. Thermostats read the temperature in each zone of the home, sending signals to the control panel to adjust the temperature as required within a zone. Zone dampers function within the ductwork to open and close, controlling airflow into each zone and regulating the temperature. Signals are sent to the dampers by the control panel. Bypass dampers are not recommended to be used because, by alleviating pressure within the ductwork when other various dampers close, it can cause the evaporator coils to freeze because temperatures can drop drastically within the ductwork. The colder the coil becomes, the less efficient it is. Air cannot pass through a frozen evaporator coil. With zoning thermostats, the temperature is adjusted within each zone, affording comfort throughout the house. No one has to compromise! By making efficient use of the HVAC system, zoning your system can save you money on energy costs. According to the U.S. Department of Energy, system zoning can save homeowners up to 30 percent on a typical energy bill. Those savings can mount up significantly, as the Department of Energy also estimates that heating and cooling costs account for approximately 40 percent of the average household's utility costs. 
The initial cost of retrofitting AC zoning causes hesitation, and resistance, in homeowners to make the transition. However, those costs can be recuperated over time through reduced energy costs. Check with our sales staff to see if any of the manufacturers are offering special offers or financing. Check with your tax accountant to see if tax credits are available for making your HVAC system more energy efficient.
With everybody at home, it is important to keep your air clean and healthy. With the Air Scrubber & ActivePure Technology, you can go beyond traditional air purification systems by not only eliminating stale odors and reducing dust, but actually eliminating harmful contaminants in the air and on the surfaces of your home. The Air Scrubber has been an effective tool against illness causing viruses and bacteria including, but not limited to, MRSA, E. coli and others. The air purifying system won't cure an individual who may have contracted the coronavirus or guarantee that someone won't get a virus, but air purifiers can help keep a healthy environment. The Air Scrubber will reduce exposure to common bacteria and viruses and their effects upon your health and wellness. Get the Air Scrubber to protect your family and yourself from harmful bacteria and viruses in your home.
The air scrubber will reduce particles that can irritate allergies and asthma. This is especially important since we are at the height of our allergy season.
For more information visit: https://acambulance.com/air-scrubber/
Air Conditioning Ambulance
AC Ambulance has been serving the Metro New Orleans area, in both residential and commercial properties, for four decades.  We have built our reputation on trust and customer service, striving for complete customer satisfaction with our AC installation and repair services.  We pride ourselves on having wonderful reviews on Angie's List and from long-standing customers.  To learn how AC Ambulance can help you with routine maintenance, service repairs, or to have a new unit installed, contact our Customer Service Specialists at (504) 467-1400 or by email at acambulance1@gmail.com.  If we don't fix it, you don't pay for it!