WHAT MAKES A GOOD AC UNIT?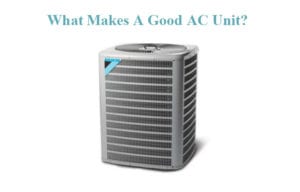 We truly relish our AC during the intense heat of the summer in the Metro New Orleans area. However, many of us run our AC for the better part of the year, only making use of our heating unit to combat the dampness and cold of winter. Air conditioning is no longer considered to be a luxury but a necessity for our comfort and well-being. So what makes a good AC unit?
We want an HVAC system that is dependable and energy-efficient. There are numerous variables to consider when purchasing an HVAC system. The first factor to take into consideration is the size of the unit that is appropriate for the size of your home. The size of a unit is measured in tons or BTU/hr (British Thermal Units per hour). A guide is available on EnergyStar's website to calculate the proper size at https://www.energystar.gov/products/heating_cooling/air_conditioning_room?qt-consumers_product_tab=2#qt-consumers_product_tab. The second variable to be concerned with is its efficiency, or how much cooling the unit delivers per watt of energy used. This is measured in SEER ratings and the higher the SEER rating, the more efficient the system is overall. Look for SEER ratings of 13 or higher. With the proper use of a programmable thermostat in addition to these first two variables, energy costs can be cut by at least 20%. The use of a fan can increase the coolness in the room by an additional 3 or 4 degrees while using very little energy, so you can turn your thermostat up a few degrees without sacrificing comfort. Should you decide to upgrade your HVAC system, consider whether or not square footage was added to your home, if you swapped out older windows for energy efficient ones, or added insulation, because your cooling needs will vary in each scenario. Our expertly trained technicians and sales staff can help you determine these needs by doing a load calculation based on the recognized methods of the ACCA (Air Conditioning Contractors of America).
Daikin, a global leader in HVAC and refrigeration systems, has pioneered the Daikin Inside Indoor Comfort System. They have created an inverter, housed within the compressor, that optimizes comfort and energy-efficiency. At AC Ambulance, we are authorized Daikin dealers. Daikin is offering a 12 year Parts & Labor Warranty, as well as a 12 year Unit Replacement Warranty. When purchasing a new Daikin unit, you get a $1200 rebate. Financing is available on a new Daikin purchase! Call us at AC Ambulance today to learn how a new Daikin HVAC System can enhance your life at (504) 467-1400.