New Orleans Summer Heat
As the temperature increase from the 80s into the 90s in New Orleans, we all start to head inside to avoid the heat. How people lived in New Orleans before the invention of Air Conditioning is definitely one of the wonders of the world. But, thanks to Willis Haviland Carrier in July of 1902, New Orleans Locals enjoy the fruits of his invention of a modern Air Conditioning. Now, when July roles around and the heat index sores above 100 degrees, we all give a little note of thanks to Mr. Carrier, but we also look to companies who can help with New Orleans Air Conditioning Repairs.
New Orleans Air Conditioning Repairs
Have you ever notice that Air Conditioning Systems seem to break on a hot summer day? During the summer, Air Conditioners need to work harder. Because the HVAC system has to work harder, sometimes parts of the machines just stop working. Just because your AC stops working does not mean you have to get a new system. Many times your air conditioner can be repaired. It is important to ca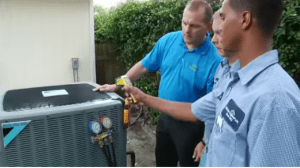 ll a certified Air Conditioning Repair Company.
Call AC Ambulance
AC Ambulance provides quality Air Conditioning Repairs performed by professional and friendly technicians. We are experienced and qualified to repair all types of Air Conditioner brands and models. Our technicians undergo thorough training to properly troubleshoot and repair all types of HVAC units. We believe in providing the best service, because we know it is important for our clients to trust us and the quality of our repairs. We guarantee our Air Conditioning Repair work, so if your unit still doesn't work, you will not be asked to pay for the repairs. This is Our Guarantee!
"If we don't fix it, you Don't Pay For It!"