Stay Comfortable This Carnival Season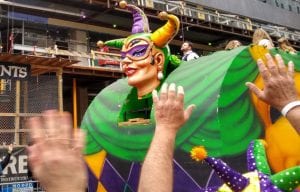 It's Carnival Season in New Orleans! This means there will be parties, balls and, of course, parades basically non-stop for the next couple of weeks. If you live on any of the parade routes, your home will become party central. The weather during the Carnival season in New Orleans can be rather unpredictable. It can be scorching hot, freezing cold, or both. There is always the chance for a shower that wasn't in the forecast.
When holding a party at your home on the parade route, you know people will come in and out, mainly to use your bathroom. So your air conditioning or heater, depending on the weather, will be working hard. Try to keep the doors closed as much as possible to keep the inside of your home comfortable. When heading to the parade route, make sure to bring sunscreen, rain gear, sweaters and blankets as well as hats and gloves so you, and your friends will stay warm/cool and dry while out at the parades this Carnival season.
Parade Schedule
Here a few parades you don't want to miss this Carnival Season:
Saturday, February 8
Sunday, February 9
Friday, February 14
Saturday, February 15
Sunday, February 16
Wednesday, February 19
| | | |
| --- | --- | --- |
| Krewe Of Druids | 6:15 pm | Uptown |
| Krewe Of Nyx | follows | Uptown |
Thursday, February 20
Friday, February 21
Saturday, February 22
Sunday, February 23
Monday, February 24 – Lundi Gras
Tuesday, February 25 – Mardi Gras
All dates and times are subject to change.