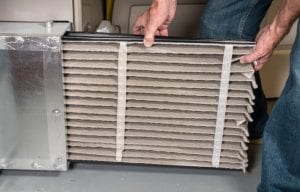 It's about to get chilly in New Orleans (again) which means you will need to turn on the heat. Since this does not happen a lot here, some tend to forget about furnace maintenance. Experts recommend to get your furnace serviced at least once a year. Here is why furnace maintenance is so important:
What Happens When You Neglect Your Furnace
When you don't get your furnace serviced regularly, you will run into the following issues: The heat exchanger, which removes the poisonous gases including carbon monoxide, needs to be checked. This part is constantly expanding and contracting as the temperatures in your furnace change. Overtime, this can lead to cracks in the heat exchanger, which means poisonous gas can escape into your home. Carbon monoxide is colorless and odorless. If you are not having your furnace checked once a year, you will not notice those cracks.
Your air filter will become completely clogged up with dust, debris and maybe even mold. If the air filter does not work any longer, dust and dirt will end up in your ducts and the furnace. Then, those particles will be circulated  throughout your living spaces once you turn on the heat.
A furnace that has not been maintained well will run less and less efficiently which means heating up your home will actually cost you more money because your electric bill will go up significantly. A clogged up air filter will not only impact the air quality in your home, it will also require more energy to move the air through.
The last thing you want is your furnace to break down during the coldest night of the year. Only regular checkups can avoid an unexpected failure of your furnace. Contact AC Ambulance and get your furnace serviced today.
Get quality Heating and Furnace Repair Service from AC AMBULANCE.
Let AC Ambulance provide you with quality Heating  and Furnace Repair Services. HVAC maintenance will increase the life of your heating unit & improve home air quality.
AC Ambulance provides a comprehensive HVAC service for your home. Our services includes new heating units and heating repairs services. In addition, we will help you maintain a comfortable home environment during the winter with a quality heating unit. Let our expert technicians help you to determine which heating unit will meet your needs.
Our Heating System products are efficient and offer worry-free comfort. Our heater and furnace units come from reputable manufacturers that include: Daikin, Amana, Lennox, and Goodman. These manufacturers have developed their reputations by providing top quality Air Conditioning and Heating Systems that are durable and reliable.
Most of all, Air Conditioning Ambulance believes in providing top quality heating units that you can depend on. We are certified and knowledgeable about all heating units. We can repair and service any brand or model that you may have in your home. In addition, we offer a quality heating and cooling maintenance program. This service helps to ensure that you have a superior air quality environment with properly maintained units. Proper HVAC maintenance will increase the efficiency of your heating and cooling unit while reducing the energy costs.
AIR CONDITIONING AMBULANCE will warm your home during the cold winter months.