What Temperature To Set Your Thermostat When You Are Gone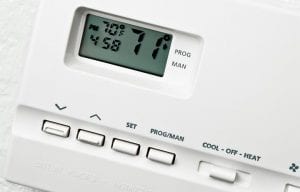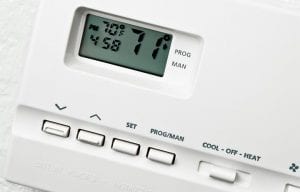 When heading out to work, what temperature should you set your thermostat? You do not want to waste money on heating or cooling your home while you are gone. However, if your place gets too hot or too cold while you were out, it may not only take forever to reach a comfortable temperature, it may cost you even more to get it back to a moderate climate. The Department of Energy says you can save as much as 10% a year on heating and cooling by simply turning your thermostat back 7°-10°F for 8 hours a day from its normal setting.
In The Summer
In the summer, keep your house warmer than normal when you are away,  setting the thermostat to 72° – 78°F only when you are at home and need cooling. Set your thermostat at as high a temperature as comfortably possible and ensure humidity control if needed. The smaller the difference between the indoor and outdoor temperatures, the lower your overall cooling bill will be. Turning your thermostat up seven to 10 degrees F should help you save on your energy costs. This means you should leave you thermostat between 85°F and 88°F degrees in the summer when you are not there.  If 78°F sounds too hot for you, experiment and see what temperature works best for you. Just remember to change the setting between seven to 10 degrees before you leave for work.
In The Winter
In Winter, you can easily save energy during the colder months by setting the thermostat to 68°F while you're awake and setting it lower while you're asleep or away from home, according to the Department of Energy.  When leaving for work or other errands, turn your thermostat down to  61°F to 58°F to save some money on your energy bill. If you are going on vacation and are gone for a couple of days, it might make sense for you to turn your thermostat even off. Just don't turned it too low since you do not want the pipes in your house to freeze
If you have any questions about how to operate your AC unit most efficiently ask the experts!
Contact Air Conditioning Ambulance for more information
504-467-1400
20 Veterans Blvd #101 | Kenner, LA 70062
Our office hours are Monday – Friday 9AM – 5PM, we are closed Saturday & Sunday.