What To Do When Your AC Goes Out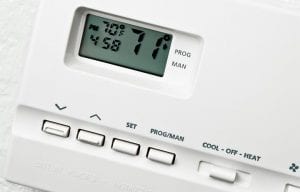 It is still hot in New Orleans and these conditions will stay with us at least till the end of September. Your AC has been running full speed for a couple of months now so what do you do if your unit unexpectedly stops working? First of all, don't panic your AC may not need repair service right away.
What You Can Do
First, check your thermostat. Somebody in your household may have changed the settings or even turned off the unit. Keep in mind, wall thermostats typically use AA or AAA alkaline batteries or 3V button-style lithium batteries. The battery in the thermostat keeps your programming saved and prevents your heating and cooling control system from turning off when the power goes out. So if you had a power outage and the batteries in your thermostat were dead, then your unit may have been turned off.  Most models of programmable thermostats will display or flash some sort of low battery symbol when the batteries begin to run low. At this point, the thermostat can no longer control the HVAC system
Also check your circuit breaker. It's not uncommon for a circuit breaker to be tripped. If it appears nothing is happening with your unit, check to make sure the circuit wasn't tripped and isn't in the off position. If it is, flip it back on, and see if your unit starts back up.
An exceptionally clogged filter can impact the way your system runs, slowing it down, and making the airflow feel weaker. If your filter looks dirty, change it out, and see if that improves the airflow. If not, the clogged filter may have caused a build-up of dirt in your ducts that will need to be professionally cleaned.
If you have access to your ducts, make sure the seals look good and no insulation has fallen away. For homes with duct-work under the house, creatures often use these as materials for nesting. It's not uncommon to see holes and disconnected areas.
Don't Take a chance, Call Air Conditioning Ambulance!
504-467-1400
20 Veterans Blvd #101 | Kenner, LA 70062
Our office hours are Monday – Friday 9AM – 5PM, we are closed Saturday & Sunday.