New Orleans Winter typically starts in February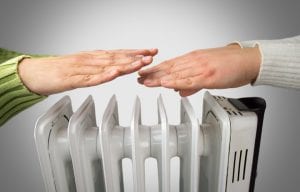 Sooner or later, the cooler weather is going to arrive in the New Orleans Metropolitan Area, and we will be running to turn on our heaters in our homes. February is normally one of our cooler months, so it is time for us to prepare. There are a lot of great options for heating for the winter, but it is important to take certain precautions, especially for fireplaces and space heaters. Every year we hear news stories about a home fire caused by a space heater or fireplace ashes. Plus, it is important for you also to make sure the central heating system is also up-to-date with maintenance. We have thought about some of most important things to consider for Heating of the Winter and compiled a short tips list.
Let's prepare for the cold
Below are a list of some great heating tips to go over before turning on the heat in your home:
Heating equipment is a leading cause of home fire deaths. Half of home heating equipment fires are reported during the months of December, January, and February. Some simple steps can prevent most heating-related fires from happening.
Keep anything that can burn at least three feet away from heating equipment, like the furnace, fireplace, wood stove, or portable space heater.
Have a three-foot "kid-free zone" around open fires and space heaters.
Never use your oven to heat your home.
Have a qualified professional install stationary space heating equipment, water heaters or central heating equipment according to the local codes and manufacturer's instructions.
Have heating equipment and chimneys cleaned and inspected every year by a qualified professional.
Remember to turn portable heaters off when leaving the room or going to bed.
Always use the right kind of fuel, specified by the manufacturer, for fuel burning space heaters.
Make sure the fireplace has a sturdy screen to stop sparks from flying into the room. Ashes should be cool before putting them in a metal container. Keep the container a safe distance away from your home.
Test smoke alarms at least once a month.
At Air Conditioning Ambulance, we do a lot of winter maintenance on heating systems. If you think that you need your HVAC system looking at before the winter starts in New Orleans, Call us at 504.467.1400.