What is the importance of AC Duct Work Cleaning?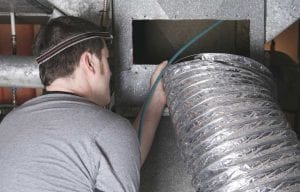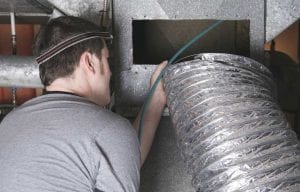 The goal of all HVAC maintenance is to keep your system running as energy efficiently as possible. Your duct work is no exception! We need to take into consideration that our duct work carries the air throughout our entire home. If mold and mildew, for example, thrives in your duct work, spores will circulate around your home.
Through everyday living, many contaminants and air pollutants are created. Examples of these are dander, dust, and chemical cleaning products. These pollutants are dispersed through the HVAC system approximately 5 to 7 times per day as the air is recirculated, causing an eventual build up in the duct work. Although this eventual build up occurs, it is not inevitable that the air in your home is unhealthy. However, they may add to overall more serious health issues such as respiratory ailments, autoimmune disorders, or environmental allergies caused by contaminants hiding in the air ducts.
As first mentioned, another important reason to clean your AC duct work in addition to other components of your unit is so that your system will not have to work as hard to maintain a comfortable temperature. In the long run, less energy is used resulting in a higher degree of cost effectiveness over all. According to the U.S. Department of Energy, 25 – 40 percent of energy is wasted while heating or cooling the home when the duct work is congested with contaminants. However, according to the EPA, little evidence exists that cleaning the duct work alone will improve the efficiency of your HVAC system.
AC Ambulance has been serving the Metro New Orleans area, in both residential and commercial properties, for four decades. We have built our reputation on trust and customer service, striving for complete customer satisfaction with our AC installation and repair services. We pride ourselves on having wonderful reviews on Angie's List and long-standing customers. To learn how AC Ambulance can help you with service repairs or to have a new unit installed, contact us at (504) 467-1400 or by email at acambulance1@gmail.com.