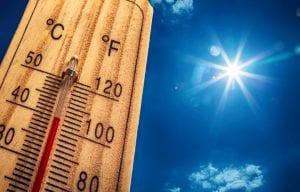 Temperatures are on the rise in New Orleans. If our spring is any indicator, we might be in store for a very hot summer. March and April have been exceptionally warm, and it seems as if we saw record breaking temperatures almost every week. As a matter of fact, last month has been the warmest March on record according to the National Weather Service. For more information, visit: https://www.weather.gov/lix/new_mar_top10. As of right now, April is in the top 10 list of warmest months. If these trends continue, we might be on track of a super hot summer. This might be a good time to think about getting a new Air Conditioning unit.
Get A New Unit Now Before It Gets Too Hot
The best way to stay cool during a possible heat wave this summer is a new AC unit. AC Ambulance is the representative of top quality HVAC manufacturers to guarantee your satisfaction in employment of both residential and commercial uses. The manufacturers we represent include: Daikin,  Goodman, Amana and Air Scrubber. Air Conditioning Ambulance offers full HVAC units, as well as split units for zoning. They are the best HVAC products to help keep the weather in your house more comfortable than outside.
Daikin is a world leader, as the world's #1 producer of top quality HVAC systems, offering products with substantiated technology, energy-efficiency for lower energy bills, and superior comfort for everyday living. Daikin has installed millions of HVAC systems worldwide. They produce an inverter type air conditioner for increased energy savings. In this type of unit, the temperature is adjusted accordingly without turning the motor on and off, using less power overall. The motor speed is created by a permanent magnet and an electromagnet, whose direction is predicated on the direction of the electric current. An inverter is employed to adjust the velocity of the direction in which the electric current is being redirected, and controls the rotation speed of the motor. By using the renewable energy of heat pumps, this unit uses the physical properties of heat as the refrigerant absorbs heat from the outdoor air and circulates it through the system to provide heating and cooling. Daikin is the only developer and manufacturer of both refrigerants and HVAC systems, creating a refrigerant (R-32) with a lower environmental impact.
Goodman has achieved the coveted ISO 14001:2004 accreditation from DNV for implementing more environmentally sustainable production processes. These are globally recognized manufacturing standards for the protection of the environment. They also have an energy compliant manufacturing facility that has earned them the prestigious ISO 9001, and their offices are in the process to receive LEED Gold Certification, having a positive impact on the health of their employees. As an American manufacturing company, Goodman supports U.S. Veterans as a proud sponsor of Lifetime's series, Military Makeovers. As a Houston based company, it also supports hurricane relief efforts across Texas and Florida. Find more information at http://www.goodmanmfg.com/goodman-flood-relief-program.
Amana prides itself on being designed, engineered, and assembled in the USA. A $400 million facility was built in Houston, Texas, and they hold the distinguished certifications of ISO 9001 as well as ISO 14001. There's also a Tennessee facility. Americans have been patronizing Amana brands since 1934.
Air Scrubber & ActivePure Technology– With ActivePure® Technology, you can go beyond traditional air purification systems by not only eliminating stale odors and reducing dust, but actually eliminating harmful contaminants in the air and on the surfaces of your home.
Call us at AC Ambulance today to learn how a new HVAC System can enhance your life at (504) 467-1400. Inquire about Daikin's 12 year parts and labor warranty, as well as financing and the $1200 instant rebate for Daikin units.