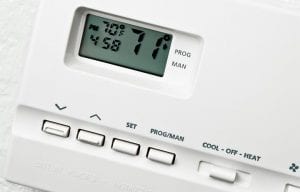 Winter is here and it looks like we are in store for a couple of chilly days. There are a few things you can do that will help keep your home warm without getting a huge electric bill.
Take Advantage Of The Sun
While you try to block out the hot sun rays in summer, in winter you will want to open the blinds to south-facing windows during the day to allow sunlight to naturally heat your home, and close them at night to reduce the chill you may feel from cold windows.
Do Not Heat An Empty House
When you are at home and awake, set your thermostat as low as is comfortable. When you are asleep or out of the house, turn your thermostat back 10° to 15° for eight hours and save around 10% a year on your heating and cooling bills. Use a programmable thermostat. It will make it easy to set back your temperature. If you have a heat pump, maintain a moderate setting or use a programmable thermostat specially designed for use with heat pumps.
Find and Seal Leaks
Seal the air leaks around utility cut-throughs for pipes ("plumbing penetrations"), gaps around chimneys and recessed lights in insulated ceilings, and unfinished spaces behind cupboards and closets. Add caulk or weatherstripping to seal air leaks around leaky doors and windows. Make sure your attic access is sealed as well. Keep in mind your attic might be insulated, but is your door or other form of access? As you know, heat rises and a lot of warmth could escape through an poorly insulted access point.
For more tips visit: https://www.energy.gov/energysaver/fall-and-winter-energy-saving-tips
Let AC Ambulance provide you with quality Heating  and Furnace Repair Services. HVAC maintenance will increase the life of your heating unit & improve home air quality.
AC Ambulance provides a comprehensive HVAC service for your home. Our services includes new heating units and heating repairs services. In addition, we will help you maintain a comfortable home environment during the winter with a quality heating unit. Let our expert technicians help you to determine which heating unit will meet your needs.
Our Heating System products are efficient and offer worry-free comfort. Our heater and furnace units come from reputable manufacturers that include: Daikin, Amana, Lennox, and Goodman. These manufacturers have developed their reputations by providing top quality Air Conditioning and Heating Systems that are durable and reliable.
Most of all, Air Conditioning Ambulance believes in providing top quality heating units that you can depend on. We are certified and knowledgeable about all heating units. We can repair and service any brand or model that you may have in your home. In addition, we offer a quality heating and cooling maintenance program. This service helps to ensure that you have a superior air quality environment with properly maintained units. Proper HVAC maintenance will increase the efficiency of your heating and cooling unit while reducing the energy costs.