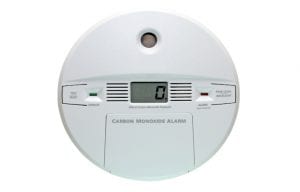 Winter is officially here and we have the temperatures to prove it. With the chilly conditions outside, you will be running your heating systems to stay warm and comfortable inside. This is a good time to remind you about the dangers of carbon monoxide. More than 400 Americans die from carbon monoxide poisoning every year, according to the Center For Disease Control and Prevention (CDC). Everybody is at risk for carbon monoxide poisoning.
What You Need To Know
Carbon monoxide is created when a fossil fuel is burned. Carbon monoxide can come from a number of sources in your home including: furnace systems and chimney's with leaks, kerosene heaters, wood-burning stoves and fireplaces, gas ranges, generators and appliances fueled by gasoline. Carbon monoxide is an odorless and colorless gas which can cause sudden illness and even death. That's why carbon monoxide has also been dubbed the silent killer.
What You Can Do
There are a few simple things you can do to prevent carbon monoxide exposure. Only a qualified technician should work on your heating system, water heater and any other gas, oil, or coal burning appliances. Have these appliances serviced regularly by a licensed technician who will check for possible leaks that could let carbon monoxide in your home. Make sure you have a battery operated carbon monoxide detector in your home. Do not forget to check its battery regularly. Officials recommend to check it every time we change our clocks in winter and in fall. You should never use a generator, charcoal grill, camp stove, or other gasoline or charcoal-burning device inside. Do not attempt to warm your house using a gas oven.
For more information visit: https://www.cdc.gov/co/guidelines.htm
Get quality Heating and Furnace Repair Service from AC AMBULANCE.
If you are worried about carbon monoxide, let AC Ambulance provide you with quality heating  and furnace repair services. HVAC maintenance will increase the life of your heating unit & improve home air quality.
AC Ambulance provides a comprehensive HVAC service for your home. Our services includes new heating units and heating repairs services. In addition, we will help you maintain a comfortable home environment during the winter with a quality heating unit. Let our expert technicians help you to determine which heating unit will meet your needs.
Our Heating System products are efficient and offer worry-free comfort. Our heater and furnace units come from reputable manufacturers that include: Daikin, Amana, Lennox, and Goodman. These manufacturers have developed their reputations by providing top quality Air Conditioning and Heating Systems that are durable and reliable.
Most of all, Air Conditioning Ambulance believes in providing top quality heating units that you can depend on. We are certified and knowledgeable about all heating units. We can repair and service any brand or model that you may have in your home. In addition, we offer a quality heating and cooling maintenance program. This service helps to ensure that you have a superior air quality environment with properly maintained units. Proper HVAC maintenance will increase the efficiency of your heating and cooling unit while reducing the energy costs.
AIR CONDITIONING AMBULANCE will warm your home during the cold winter months.